We are featuring some songs from the Yowun Gee Group established in early 1970s by the National Youth Services Ministry in the Sinhala Jukebox.
Yowun Gee group had brought talents to Sinhala Music Scene from various part of the country and is responsible for nurturing talents of many young and inspiring artists. The songs featured here are sung by artists who later made a name for themselves outside the Yowun Gee Group.
These artists include: Chandralekha Perera, Shirley Waijayantha, Marshal Janatha, Chandrasena Hettiarachchi, and Somasiri Medagedara.
Music for Yowun Gee 1 featured here was composed by Shirley Waijayantha Gunasinghe.
Buy Music and support our inspiring Artists !!!
To inquire about songs featured in this page contact the webmaster.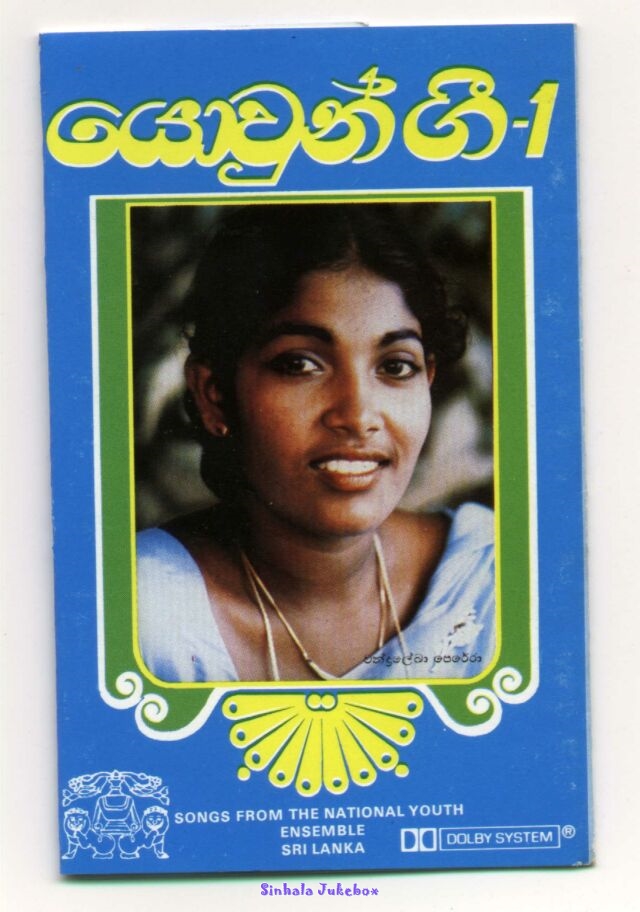 Yowun Gee 1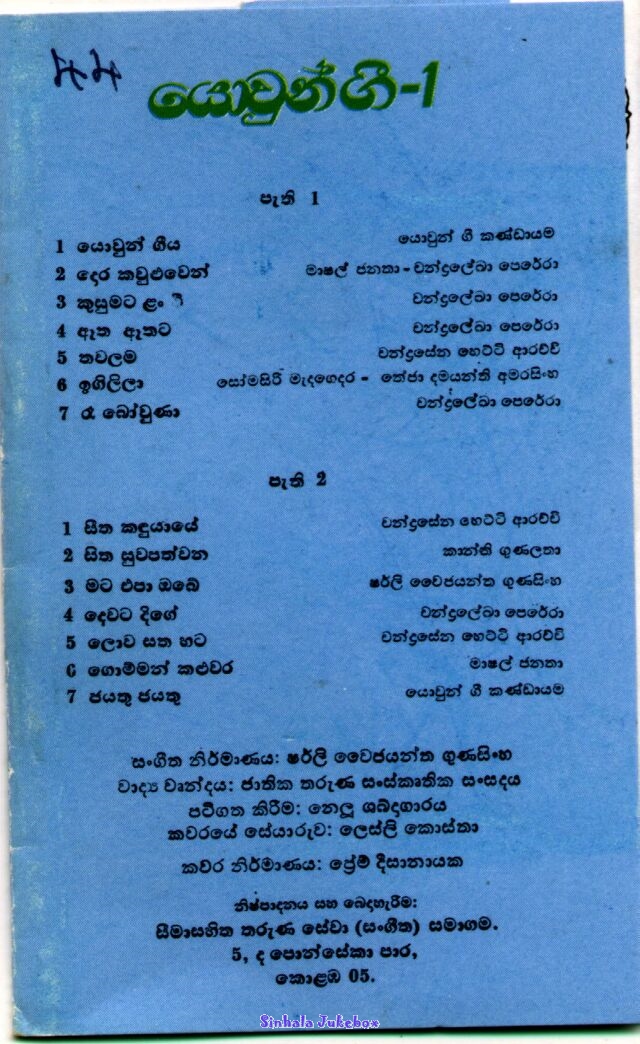 Back Cover
Yowun Gee 1
Title
Title

1. Yowun Giiya
Vocals: Yowun Gee

Composer: Shirley Waijayantha Gunasinghe


2. Dora Kawuluwen
Vocals: Yowun Gee with Chandralekha Perera & Marshal Janatha

Composer: Shirley Waijayantha Gunasinghe


3. Kusumata Lanwii
Vocals: Yowun Gee with Chandralekha Perera

Composer: Shirley Waijayantha Gunasinghe


4. Aethata Aethata
Vocals: Yowun Gee with Chandralekha Perera

Composer: Shirley Waijayantha Gunasinghe


5. Thawalama
Vocals: Yowun Gee with Chandrasena Hettiarachchi

Composer: Shirley Waijayantha Gunasinghe


6. Igililaa
Vocals: Yowun Gee with Somasiri Medagedara & Theja Damayanthi

Composer: Shirley Waijayantha Gunasinghe


7. Rae Boowunaa
Vocals: Yowun Gee with Chandralekha Perera

Composer: Shirley Waijayantha Gunasinghe


8. Siitha Kanduyaaye
Vocals: Yowun Gee with Chandralekha Perera & Chandrasena Hettiarachchi

Composer: Shirley Waijayantha Gunasinghe


9. Sitha Suwapath
Vocals: Yowun Gee with Kanthi Gunalatha

Composer: Shirley Waijayantha Gunasinghe


10. Mata Epa
Vocals: Yowun Gee with Shirley Waijayantha (Gunasinghe)

Composer: Shirley Waijayantha Gunasinghe


11. Dhewata Dhigee
Vocals: Yowun Gee with Chandralekha Perera

Composer: Shirley Waijayantha Gunasinghe


12. Loo Satha Hata Setha
Vocals: Yowun Gee with Chandrasena Hettiarachchi

Composer: Shirley Waijayantha Gunasinghe


13. Gomman Kaluwara
Vocals: Yowun Gee with Marshal Janatha

Composer: Shirley Waijayantha Gunasinghe


14. Jayathu Jayathu
Vocals: Yowun Gee

Composer: Shirley Waijayantha Gunasinghe