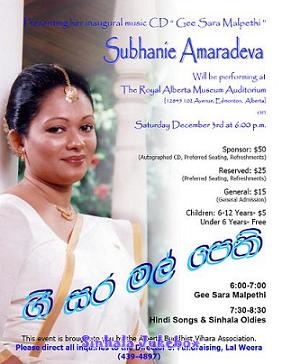 Subhanie Amaradeva
We are featuring the Inaugural Music CD of
Subhanie Amaradeva
titled
Gee Sara Malpethi
containing 12 great songs for your listening pleasure.
The CD will be released in Edmonton, Canada
on December 03, 2005 following
Gee Sara Malpethi
concert.
Subhanie Amaradeva is a talented vocalist and the daughter of Music Legend Dr. Pandith W D Amaradeva. We congradulate on her achievement. This debut album of Subhanie contains lyrics written by great lyrics writers: Dr. Sunil Ariyaratne, Prof. Wimal Disanayake, Dr. Ajantha Ranasinghe, Monica Ruwan Pathirana, Sunil Sarath Perera, W A Abeysinghe, Wasantha Kumara Kobawaka, and Senerath Gonsal Korala. Music are composed by Dr Pandith W D Amaradeva, Victor Ratnayake, Rohana Weerasinghe, Sanath Nandasiri, and Mahinda Bandara.
Buy music and support Our Inspiring Artists !!!
To inquire about songs featured in this page please write to:

Webmaster AT SinhalaJukebox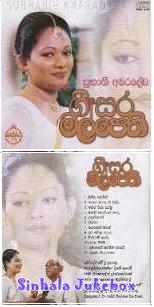 Gee Sara Mal Pethi
<! Start Album here>
Gee Sara Mal Pethi by Subhanie Amaradeva
<! end album here>