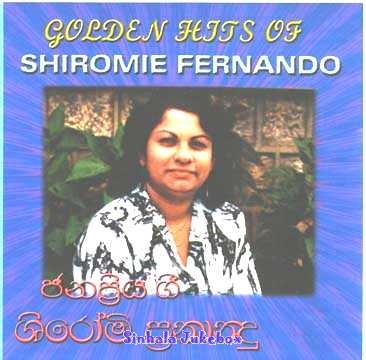 Golden Hits of Shiromie Fernando
We are proud to feature Shiromie Fernando's Newest Compact disk containing 12 Old Favorite Songs at this site.
In the year of 1971 a little girl took the Sri Lankan music scene by storm. She was Sri Lanka's foremost child star Shiromie Fernando. Shiromie was affectionately referred to as Baby Shiromie and rode a wave of popularity in Sinhala pop music in the seventies. Her song Konda Namagena broke new ground and lives in the hearts of many Sri Lankans young and old. Songs like Amma, Handahami and Sakalabujung are all time classics that live on in the annals of Sinhala pop music.
Shiromie was brough into the limelight by her uncle Meroy Dharmaratne and their band The Dharmaratne Brothers. Her reputation preceded her whereever she went and she was refered to as the Shirley Temple of Sri Lanka. During the hight of her career Shiromie was the most popular singer in Sri Lanka and performed to audiences from all four corners of the Island. Shiromie's music lives on this CD, which has been produced due to popular demand.
The music takes you back in time when the voice of a innocent child stole your heart.
Shiromie who is now domiciled in Canada dedicates this CD to her ardent fans.
Buy this CD and support our Lankan Artists!!
To buy this CD Contact:

Shiromie Fernando
1602 - 25 Thunder Grove
Toronto, Ontario M1V 3M2
Canada

Cost: US$8 + $5.00 [S&H] =$13.00

Note: Please metion Sinhala Jukebox as your source when you buy this CD. Thanks!
For more information visit Shiromie's Official Home Page.
<! Start Album here>
Golden Hits of Shiromie Fernando
<! end album here>