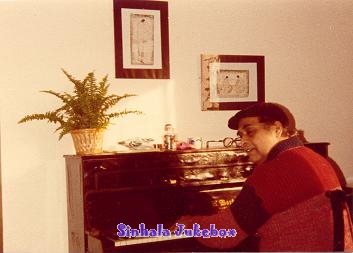 Nimal Mendis
It is our great pleasure to feature award-winning vocalist, and Music Director par excellence, Nimal Mendis at Sinhala Jukebox.
Nimal received Best Music Director award from OCIC for his song in the Movie Ganga Addara (1979), and Sarasaviya Best Music Director award (1981) for the film "Ganga Addara". He also received the Presidents award for best Music Director for the films "Yahulu Yeheli" and "Duwata Mawaka Missa". All of the three films mentioned above were directed by Sumitra Pieris.
Nimal Mendis has been involved with music from his childhood and has lived for many years in London travelling often to Sri Lanka. He now lives in France with his wife Ranjani but hopes to relocate either back to the UK or Sri Lanka. Paulmarie Niranjamal their son, lives and works in London for the BBC.
Nimal was Music Director for films by Lester James and Sumitra Peiris. However, the highlight of his songs for Sinhala films was for Manik Sandrasagara's Kalu Diya Dahara (A column of black water), with Master Sir. The song was translated into Sinhala by Karunaratne Abeysekera and sung by Neville Fernando. "Master Sir" is a colonial idea in modern Sri Lanka. The words tell a story about the dignity of labour. A story not about wages but of social justice. The song was recorded in English and Sinhalese and has remained a hit in Sri Lanka for over thirty years.
Most of his songs written for Sinhala films are sung by popular singers in Sri Lanka.
Some of the highlights: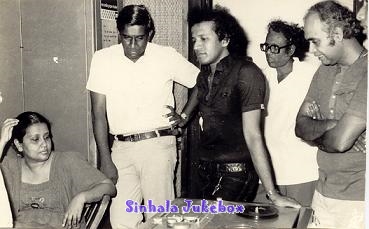 Recording of Ganga Addara
The Ganga Addara photo taken when song was recorded with Vijay. People present from left to right are: (1) Sumitra Pieris (Film Director), (2) Sarath Fernando (who orchestrated the music), (3) Vijaya Kumarathinga (Singer Actor), (4) Augustus Vinagaratnam (who translated the lyric into Sinhala), and (5) Nimal Mendis.
The Ganga Addara film by Sumitra Peiris with Ganga Addara sung by Vijay Kumaratunge and the other song in the film Ran Tikiri Sina was sung by Victor Silva and Nirosha Perera. Ran Tikiri Sina is also sung by Neela Wickremasinghe and TM Jayaratne among others. Upul Nuwan By Milton Mallawarachchi, Doi Doi Doi by Rukmani Devi, Nim Him" by Amaradeva, Viyo Gee by Neela Wickremasinghe, "Ghennu Lamai" by Victor Ratnayake and recently "Obey Adare" by Samitha Mudunkotuwa. He was also Music Director for Lester James Peiris's "Baddegama" and "God King". The "God King" music was recorded in London with a fifty piece orchestra.
Nimal recorded some English songs with Harold Seneviratne that became very popular in Ceylon of that time. The more popular ones were Kandyan Express with Nimal on piano, Tissa Seneviratne on drums and Adrian Ferdinands on bongoes, "Cherry Blossom Tree" and "Goodnight Kisses" by the Jay brothers, "Champagne Blues" by Edgar Heber with Nimal on piano and "Oh my lover" by Sandra Edema.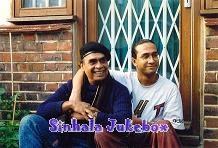 Nimal has 22 songs published in Britain and is a member of the Performing Right Society in Britian. The Sri Lanka Performing Right is affliated to this society.
Kiss Kiss Kiss was Nimal's first song recorded in Britian and sung by Mary Marshall on the Columbia label.
Kandyan Dance an instrumental was his second piece recorded by Friedel Berlipp and his Orchestra in Germany that went on to be No 2 on Radio Luxemburg. It was also released in the States.
Black Pearls Green Diamonds has eight of Nimal's songs on an LP for Decca by "One Two and Three" a folk group in Britian.
Top of the Pops Nimal appeared with his singing partner Sandra Edema in 1968 with his song "Feel like a Clown". They were also featured with the song on "Beat Club" in Germany that year. "Beat Club" was the show case Pop TV show in Continental Europe at the time. During this period he had several songs published and recorded on major labels in London.
Eugene Wright bass player with the world famous original Dave Brubeck Quartet arranged and recorded five of Nimal's songs with Eugene only playing bass. He also produced one other song with electric guitar, bass and piano, "Singing Fish". They were sung by Sandra Edema and Nimal. The song is based on an idea of the "Singing Fish" of Batticoloa.
In the eighties Nimal went into the production of Documentary films with Ranjani. Paulmarie(See image of Nimal with Paulmarie), deft with computers and editing visuals assisted them.He was only seven years old when he accompanied his parents filming in the war zones of of the North and East of Sri Lanka.
Dawn of Terror their first documentary filmed on the ethnic conflict could be called an anti war film. Dawn of Terror was made for The Centre for Society and Religion in Sri Lanka.
Shattered Pearl on women affected by the war in Sri Lanka and a film on the 'right to life' was made for Channel 4 TV in England. It was a major film by Sri Lankans on British TV at the time. Andrew Jayamanne was Cameraman.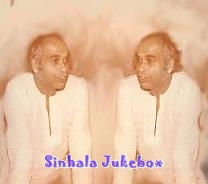 Nimal Mendis
Three Women Speak Out
was for "Article 19" in Britian on the freedom of opinion and _expression. It focus's on three women of Sri Lanka. Manorani Saravanamuttu, mother of journalist Richard de Zoysa, Sunila Abeysekera and a simple Kandyan village woman.
They edited "Z for Zero Concern" on homeless children in London for the Children's Society in Britain.
Water Water Everywhere was filmed in Bangladesh on women and water management. They used cameraman Channa Deshapriya.
Blessed are the Poor compares poverty in Britain and South India and the positive effort they make to change their lives. Channa was cameraman once again.
They were researchers for three major British TV films on Sri Lanka, Unleashing of Evil, People Trade and A well founded fear. Nimal was assistant producer for "Unleashing of Evil".
Three of their documentaries were in the Monticatini film festival in Italy. One of them featured three Sinhala songs titled "Stop killing start singing". It is the first time that sinhala songs were featured exclusively as a documentary.
For the past four years Nimal has been concentrating on the reproduction of some of the committed themes and spiritual songs he has written over the years and some new material. Three of these are in audio documentary form on CD, "The Passion Report", "Ferryman" and "War is my Country". These will be productions under their own enterprise MEDIAEYE.
Mediaye Productions is run by Nimal's son Paulmarie Niranjamal Mendis. It has its publishing arm Mediaeye Music. Paulmarie studied the "Yak bera" and "Tammatama" with Master drummer Piyasara Sildhadipathi when he was in Sri Lanka. In addition to his technical work with the BBC he is also doing electronic music using ethnic drums, jazz and pop. At the moment he is compiling several CD's and DVD's of Nimal's work and also remixing his own and his Dad's songs.
Buy Music and support our inspiring Artists !!!
Nimal Mendis composed and released a sinhala blue song recently (March 26, 2013). This song is sung by Amila Sandaruwan and is translated into sinhala by Duminda Alahendra. Listen to this song at Sinhala Jukebox. You can download the song from http://soundcloud.com/mediaeyemusic/amila-sandaruwan-girls for FREE. It is also available from youtube for your listening pleasure at http://www.youtube.com/watch?v=TAjrOsLmNF4.
You can buy Nimal Mendis compositions directly from MediaEye Productions. Listed below are a selction of songs available to buy and download. Please visit Mediaeye Downloads page for a complete listing.
BUY and DOWNLOAD Online:
Mediaeye Productions currently have several singers/musicians under their patronage. You can visit them at
http://www.mediaeyeproductions.com/singers.html
or follow the links listed below.
|| Schuilling, Gresha
|| Jayawardena, Nalin
|| Rozagy
Nimal welcomes your feedback, so please write to him:

Nimal Mendis
188, Grosvenor Crescent, 
Hillingdon
UB10 9EZ  
United Kingdom
Tel: + 44 (0) 1895 253 192 
email songsign29@yahoo.co.uk, songsign@btinternet.com or nimal@mediaeyeproductions.com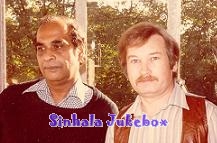 Nimal and Harry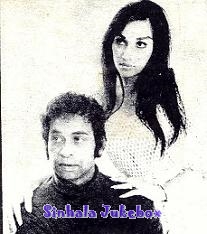 Nimal and Sandra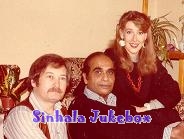 Harry, Nimal and Phyllis
Title
Title

1. Mage Sihinaya
Vocals: Sunila Abeysekera
Lyrics translated into Sinhala: Somi Sekerama
Lyrics & Music: Nimal Mendis


"Mage Sihinaya" was written for a documentary film for Mrs Bernadeen Silva, current director of PAFFREL in Sri Lanka.

2. Ganga Addara
Vocals: Vijaya Kumarathunga
Lyrics translated into Sinhala: Augustus Vinagaratnam
Lyrics & Music: Nimal Mendis


This was the first time Vijaya tried out the song when he was living at Rosmead place. Augustus Vinagaratnam had just translated Nimal Mendis's English lyric. Vijaya picked the song up straight away. Nimal Mendis accompanied him on his guitar and Vijaya sang the song flawlessly. Luckily Ranjani taped the event on a cassette recorder and was, surprisingly, of good quality. Sixteen years later Nimal and son Paulmarie mixed in a tabla into the recording. So, this is the original original song of Ganga Addara by Vijay.

3. Master Sir
Vocals: Neville Fernando
Lyrics translated into Sinhala: Karunaratne Abeysekera
Lyrics & Music: Nimal Mendis


Original version from film "Kalu Diya Dahara".

4. Mahaweli Geethaya
Vocals: Nimal Mendis
Lyrics translated into Sinhala: Gamini Wijetunge
Lyrics & Music: Nimal Mendis

From the cassette "Nil Diya Ralle" by Saman Kumbukage.

5. Master Sir (English)
Vocals: Nimal Mendis & Sandra Edema
Lyrics & Music: Nimal Mendis


Recorded in England.

6. A Second chance Mr Jones (English)
Vocals: Nimal Mendis & Harry Vallins
Lyrics & Music: Nimal Mendis


At the time Nimal's group went under the name " Pax Eternal". This song was released in Britian and the States in the seventies on the Decca label. Its listed in the States as a rare record.

7. Fisherman's Song (English)
Vocals: Nimal Mendis, Harry Vallins and Phyllis Logan
Lyrics & Music: Nimal Mendis


This song was one of eight songs in an LP by a folk group in Britian called " One Two and Three" in the sixties. The LP was called " Black Pearls and Green Diamonds". This version of the song is sung by Nimal, Harry Vallins and Phyllis Logan. Phyllis is a very successful TV actress in the UK.

8. Sudhu Unnahe
Vocal: Maurice Wijesinghe
Lyrics & Music: Nimal Mendis (Translated by Fr. Romauld Perera)


This song was first written for a audio documentary called "Ferryman" for Satyodya in Kandy. Translated by Fr. Romauld Perera and sung by him. This version is by Maurice Wijesinghe from the cassette "Nil Diya Ralle" by Saman Kumbukage.