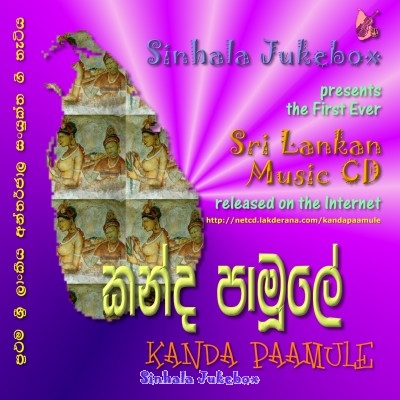 Kanda Paamule
We are featuring the newest album by Nalin and Rohan Jayawardena titled "Kanda Paamule" for your listenining pleasure.
This CD is the the fisrt ever Sinhala Music CD released on the web and is now available at http://netcd.lakderana.com/kandapaamule/ as a free download for a limited time. If you are interested in aquiring a copy of the above CD please visit that site soon.
"Kandapaamule" is a collection of tracks recorded over years by two brothers Rohan and Nalin Jayawardena who currently reside in Australia. The Music direction and composition of all the songs were done by Rohan Jayawardena. He is an accomplished Sri Lankan music director and currently resides in Australia. Vocals are by Nalin and Rohan Jayawardena. Lyrics by W. Alwin, Anil Attapattu, Shelton Nawaratne, and Dr. Vicumpriya Perera. Duet vocals are by Malini Bulathsinhala, Nirmala Ranathunga, Nijamali Jayawardena, and Minali Gamage. All these songs were recorded (or remastered) in Australia.
Buy sinhala music and support the artists!!!
To inquire about songs featured in this page please visit netcd site directly.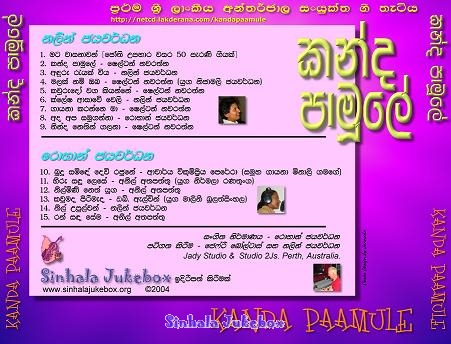 Back Cover
i<! Start Album here>
Kanda Paamule by Nalin Jayawardena
<! end album here> <! Start Album here>
Kanda Paamule by Rohan Jayawardena
<! end album here>