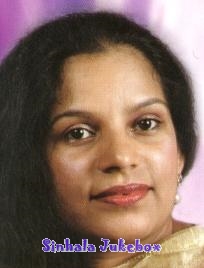 Jennat Guruge
We are featuring 18 Original music tracks by
Jennat Guruge
from her debuting CD
Seda Kirilli
.
Jennat Guruge is no stanger to the Sri Lankans living in Paris. Living there for more than a decade, she has entertained the Sri Lankan music fans many a time. And to her credit she has won several awards in Paris for her talent. The first such award being the "Best Singer Award" at the Amateur Singing Contest organized by the Sinhala Association is Paris in 1997. During the next year she repeated her feat by winning the first place at the Musical Competition organized by the Women's Eagle Society in Paris. In the same year she has held a solo concert titled "Hemanthaye Gee".
But these awards were not mere surprises for Jennat, who has won many accolades during her school days and university education at the Instutute Aesthetic Studies of the University of Kelaniya. Her teachers, peers and fellow musicians have enough testimonies to prove her talent. She has excelled at the Instutute Aesthetic Studies by winning awards for best performances year after year.
"Seda Kirilli" is the culmination of her and her husband, Dharmasiri Guruge's desire to release her own album. This is a collection of 18 beautiful tracks of varied style which no doubt will have lasting impressions in your listening experience. As you can see from the details of the tracks, prominent musicians, lyricists and composers in Sri Lanka have joined hands with Jennut to bring this wonderful CD and Cassette.
Buy Music and support our inspiring Artists !!!

Seda Kirilli

Seda Kirilli
<! Start Album here>
Seda Kirilli by Jennat Guruge
<! end album here>