We are proud to feature Triple Gem CD containing vocalist works of Mr. Ebert Upatissa. This Compact disk contains 12 Dharma Songs in English.
Buy this CD and support a good cause!!

Created in benefit of:
Visaka Social Welfare Foundation
Polgahawela
Sri Lanka.

To buy this CD Contact: Ebert Upatissa
Cost: US$9 + $2.50 [S&H] =$11.50

Note: Please metion Sinhala Jukebox as your source when you buy this CD. Thanks!
For more information visit the Triple Gem site.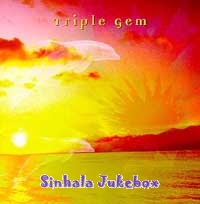 Triple Gem
<! Start Album here>
<! end album here>