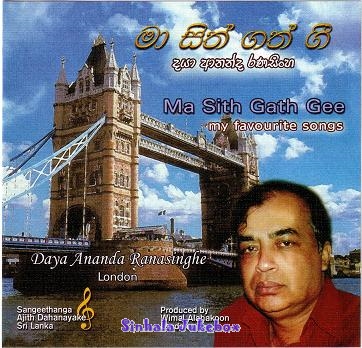 Maa Sithgath Gee
Sinhala Jukebox is featuring 06 songs by Daya Ananda Ranasinghe from his newest and first ever CD,
Maa Sith Gath Gee
.
Daya Ananda Ranasinghe is living in UK for 26 years and is the Editor of Lanka Viththi, the first ever Sinhala newspaper published outside Sri Lanka. It is in continuous publication for more than seven years now. While in Sri Lanka, he worked as a journalist for many leading newspaper groups and has more than 30 years of journalistic experience. He is a renowned poet and a lyrics writer for Sinhala songs as well as a scriptwriter for Sinhala films. In 1982 Daya Ananda won the best creative scriptwriter of the year OCIC Award in Colombo for his film Adhistanana (Determination) that represented Sri Lanka in the Film Festival in Manheim, Germany. Daya is currently working on his 2nd anthology of sinhala poems, a sinhala novel and a sinhala translation of a collection of short stories.
One of the songs he wrote Man Math Karawana Veena Rawe, sung by Late H R Jothipala was a great hit in Sri Lanka while ago and was the only classical song Jothipala sang.
Maa Sithgath Gee CD is produced by his friend Wimal Alahakoon, a Chartered Engineer, and a talented and up coming actor, who recently won a Sumathi Award at the Tele-Drama festival in Sri Lanka for the role he played in Sriyani Amarasena's ' Hemanthaye Vasanthayak' teledrama. Music is by Late Ajith Dhahanayake, a popular musician (brother of actor Morris Dahanayake) who made history as the first Sri Lankan ever hired by the West Indian Steel Band to play the guitar. This was while he was in London some years back studying photography, television and video craft in the London's South Thames College.
Tilak S. Fernando in London writes:
"Daya Ananda Ranasinghe, a veteran journalist and the founder publisher and editor of the only Sinhala Newspaper, Lanka Viththi, published in the UK and distributed to the Sri Lankan expatriate communities throughout the Globe, has released a CD under the title " Ma Sith Gath Gee". The CD contains six love songs of Dharmadasa Walpola, H. R. Jothipala , Mohideen Baig, Victor Ratnayake and the Hindi Maestro Mohamed Rafi.
The CD was released on 7th June 2003 at the Harrow University Campus Hall during the film show of Keera Kotuwe Gedara, a South Bank Production, where Wimal Alahakoon and Sriyani Amarasena played the main role. The film was shown to coincide with the 6th anniversary of the Lanka Viththi newspaper and hundreds of supporters who thronged to see the film, mainly to show and give their ceaseless support to the man who is doing an arduous but creditable job in publishing a Sinhala newspaper from London picked up a CD at the end of show giving a voluntary contribution. "
The CD we are featuring here is not for general sale. If you like to obtain the CD as a souvenir and help publish his newspaper, Lanka Viththi, please consider making a voluntary contribution to Daya. Daya Ananda Ranasinghe can be reached via e-mail at Lanka.viththi@virgin.net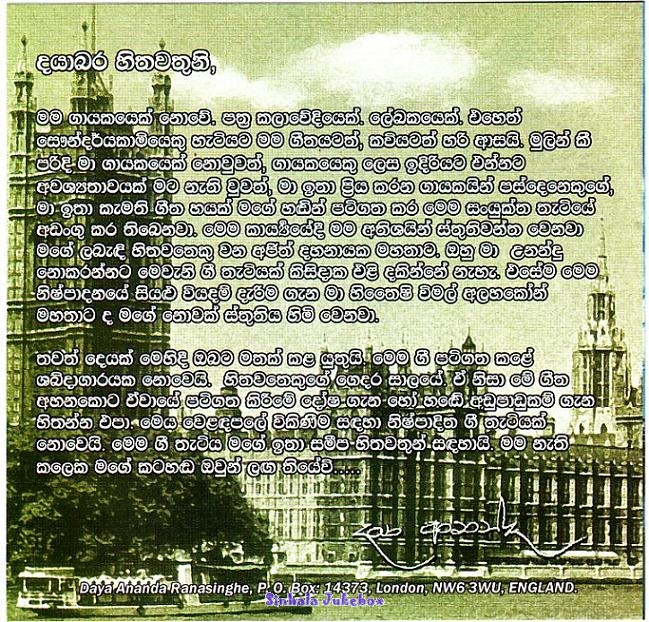 Maa Sithgath Gee
Title
Title

1. Introduction

2. Semadama Oba Mage Kiya
Original Vocal: Dharmadasa Walpola
Lyrics: Herbert M Seneviratne
Film: Siriyalatha

3. Paaya Aeyi
Original Vocal: H R Jothipala
Lyrics: Aloy Gunawardena
Film: Siriyalatha

4. Labathi Sahane
Original Vocal: Mohideen Beg
Lyrics: Herbert M Seneviratne
Film: Manushathwaya

5. Giri Hel Mudune
Original Vocal: Mohideen Beg
Lyrics: Karunaratne Abeysekera
Film: Dingiri Menika

6. Adawan Desin
Original Vocal: Victor Ratnayake
Lyrics: Mahagama Sekera
Film: Wesgaththo
Music: Somadasa Elvitigala

7. Hindi (Duthe Hoy)
Original Vocal: Mohomad Rafi
Lyrics: sahir Chowdry
Film: Madhumathi