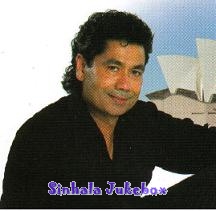 Bonny Fernando
We are featuring two albums of Bonny Fernando titled "Namal Wasanthe" and "Roo Rajinan." Roo Rajinan is his latest album with 16 songs.
Following is a write up of Bonny Quoted from Ceylon Daily News of July 27, 2002:
Bonny Fernando of Sri Lanka who lives in Sydney, Australia needs no introduction or write up with his talents for singing.
He has received the recognition of multicultural media with his artistic and mastery ability for singing. He has found his way into the hearts of people who appreciate singing both Sinhala and English.
Bonny demonstrate his capabilities for singing from his small age. His singing career opens over a period of three decades. Bonny who hails from Kurunegala, Sri Lanka is yet another versatile singer the country produced.
His rhythmic style of singing of both Sinhala and English songs in a significant combinations, bilinguality in singing in a multicultural environment in countries like Australia and Sri Lanka is a very welcome ability indeed.
In the early days of his career he became very popular because of his versatility of presentation of melodic songs of Jim Reeves.
During that time his audiences and critics developed a habit to identify Bonny as Jim Reeves of Sri Lanka. This identification was very appropriate as Bonny exhibited a musically disciplined skill and aptitude to sing with country & western orientation. This needless to mention here that it helped him always to win many young talent contests in Sri Lanka.
With his remarkable and enchanting ways of singing as a young artist he captured the musical audiences of Sri Lanka. This made it promise for him to become the lead vocalist with the "freedom" Kurunegala Sri Lanka.
With the group Bonny gave a large number of presentations in all parts of the country over a period of time, Sri Lanka Broadcasting Corporation recognised Bonny's popularity and versatility as a western singer and opened its air waves regularly for him to please his audiences with numbers of Jim Reeves, Perry Como, Tom Jones, Elvis, etc. Later he appeared on Independent Television Network (ITN) of Sri Lanka "variety fare" of ITN featured Bonny and gave another rare opportunity for Sri Lankans to enjoy the evergreen with his silvery voice.
The time Bonny spent in Germany made him an international artiste. In Germany he sang with the resident bands at Gravenbruch Hotel and Sonnenschine Floating Hotels. Bonny has several records and audio tapes to his credit "Namal Wasanthe" which he released n 2002 is available in CD as well the songs he sings by himself and with Jeevarani Wijesena (Kurukulasuriya) the popular film artiste. In Australia Bonny has established himself as a popular artiste. He took part in almost all musical presentations and evenings organised by Sri Lanka Association of NSW Sydney/ Sinhala Cultural Forum/ The Tamil Cricket Association/ Sri Lanka Arts Council of Australia. It should be mentioned that several members of RSL clubs in NSW known Bonny as a country & western artiste.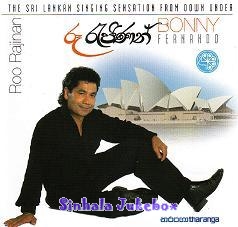 Roo Rajinan
Buy Music and support our inspiring Artists !!!
We welcome your feedback.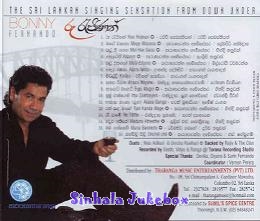 Roo Rajinan
<! Start Album here>
Ruu Rejinan by Bonny Fernando
<! end album here> <! Start Album here>
Namal Wasanthe by Bonny Fernando
<! end album here>