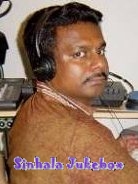 Arjuna Balasuriya
Arjuna N Vanoji
started performing together while at the Faculty of Engineering, University of Peradeniya. Arjuna played the violin and mandolin for many recordings in Sri Lanka and has accompanied famous artists in their local/foreign music tours.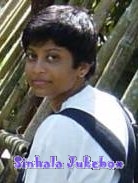 Vanoji Balasuriya
The duo plans to continue their contributions to Sri Lankan music, especially compositions based on traditional rhythms. All the following recordings were done at home in Singapore. They are grateful to their family and friends for their support and encouragement in all their endeavors.
More ...
Buy Music and support our inspiring Artists !!!
To inquire about songs featured in this page contact:

Arjuna N Vanoji Balasuriya

<! Start Album here>
Song Collection by Arjuna Balasuriya
<! end album here>
Instrumental Collection by Arjuna Balasuriya
<! end album here>
Song Collection by Vanoji Balasuriya
<! end album here>