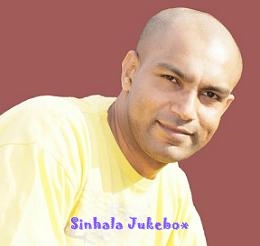 Anura Kalubowila
We are featuring 16 Original Song tracks by
Anura Kalubowila
from his debut CD
Naa Dallak
.
Anura Kalubowila is a young artist who obviously has many talents in variety of fields of arts. He was born and brought up at Passara in Badulla District in Sri Lanka but presently lives in UK. Because of his wide spreading intrinsic talents in music he was apparently a popular character at Passara Central college and often was awarded as the best singer in various musical competitions. He was fortunate to meet Vishradha B S Wijeratne, the late principal of the government school of music who recognised Anura's great talents as well as his bright future and encouraged and tempted him to study classical music. Hence he joined Mr. Wijeratne's Sangeeth Vidyapeeta in 1992 and five years later became a Visharadha in Indian vocal music.
Meeting Lal Hegoda, the renowned poet and photographer is a landmark in his life. Since he had enormous interest in photography he joined "Hegoda Seya Silpa Nikethanaya" in 1996 and studied photography under Mr. Hegoda. After obtaining his diploma in photography in 1998 he won the Best Art Photographer Award for a collection of his works. Afterwards he started to extend his career as a professional photographer while developing his skills in music. Since then Anura began to appear as a photographer, electronic keyboard player, and a singer in wedding festivals and other parties. His career dramatically changed when Mr Lal Hegoda introduced Anura to Sri Lanka's popular and genius lyricists and musicians. His ever lasting determination and desire was prompting him to create his own album and he kept on searching for good lyrics. Eventually he was able to collect 16 beautiful lyrics from Sri Lanka's number one popular lyricists and finally came out as a CD and a cassette by the name Naa Dallak. All of his song melodies have only been composed by Anura's most favorite melody makers Rohana Weerasinghe and H M Jayawardena. His songs started to be broadcast and telecast in Sri lankan electronic media.
Being a sensitive man he stepped on to street and got into buses with his peers and sang for the ordinary people in order to collect money for people who were struggling to survive their heart and kidney diseases and who could not afford the expenses for their surgeries. He managed to collect plenty of money for these people and thus helped them live their lives.
Anura has demostrated his artistic ingenuity as a street drama actor as well. He has played the main roles of street dramas conducted by the ministry of mental health in Sri Lanka for the purpose of awareness and promotion of good mental health in the wider community. Anura is also a diploma holder in journalism.
Buy Music and support our inspiring Artists !!!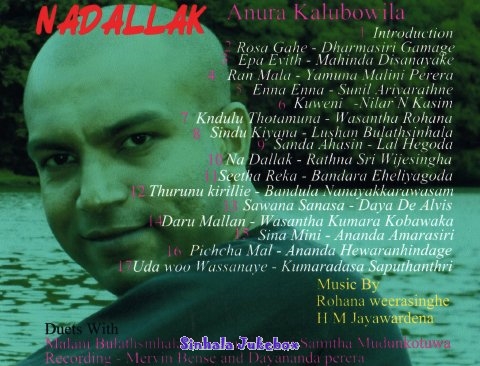 Naa Dallak
<! Start Album here>
Naa Dallak by Anura Kalubowila
<! end album here>