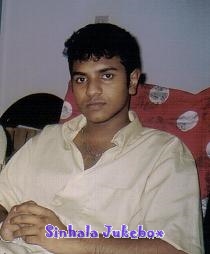 Amila Wijeratne
Sinhala Jukebox is featuring 4 great new songs by
Amila Wijeratne
, a promising vocalist.
Amila is interested in hearing your comments as well as any public performance invitations and leads. You may contact him at Amila Wijeratne, 85 Siridhamma Mawatha, Colombo 10 or by phone at 0094 714296311 ( 0714 296311 ).
Melodies and lyrics of all 4 songs were by Amila Wijeratne too.
Buy Music and support our inspiring Artists !!!
<! Start Album here>
Song Collection by Artist
<! end album here>